Bartending & Beverage Catering Services
Bartenders & Co. (A Casino Event's Bartending Services Brand) is the premier Bartending & Beverage Service Provider, offering everything you need for your next party or event. We feature the most experienced, friendly Bartending & Waitstaff expertly trained in the fine art of Mixology. We provide everything from Pro Bartenders for hire, Portable Bar Rentals, Cocktail Menu Planning & Budgeting, Beverage Consultation Services and Friendly Waitstaff.



_________________________________________________________________________

"Jake was perfect!!!!! First off, he was even cuter in person than in his picture. He was totally professional, and personable. I wasn't ready when he arrived, but he just took over the bar and made it what it needed to be. He made the rum punch I wanted, but didn't have time to premix for him and I even saw him personalizing it for one of the guests with a little floater of rum (what a great touch!). He had his own equipment and he arranged the little bar I made for him like a real bar should be. He was energetic, friendly, attentive and appropriately "flirty" (as I wanted). His attire was absolutely perfect for the Caribbean themed party and he played along with the addition of the straw hat. Jake worked amazingly well with the other people I had hired to help serve food and the DJ, and I want to have another party just so I can work with him again! He always knew what I was drinking and I never had to wait for him. I love the little extra special touches he did for the guests and his fellow workers to make sure everyone had a great time. Thank you so much for all of your help in finding the perfect bartender (the girls loved him - and so did most of the guys! lol)." - Mike, Sacramento CA

_________________________________________________________________________



Our entire team is State Certified and fully trained in the latest responsible alcohol server techniques. We'll show up on time and properly dressed (typically "Black Tie"). We provide set up, delivery of any equipment and break down after the event. Our services also include all basic Bartending Components including Mixing Kits (Mixing Tins & Glasses, Wine Keys, Muddlers, Strainers, Bar Spoons & Blenders), Beverage Straws, Garnish Swords & Umbrellas, Cocktails Napkins and Ice.


State Certified & Trained Bartenders & Waitstaff
Portable Bar Rentals
Cocktail Menu Planning, Budgets & Alcohol Recommendations
Flair Bartenders
Beer & Wine Specialists
Providing everything you need including Mixing Tools, Straws, Umbrellas, Napkins & Ice

Don't have a clue what to serve or how much to buy? Don't worry, that's what we're here for! We can either assist you in the menu planning and quantity estimates or can take care of it entirely - it's your choice! And don't think you'll be limited to the cocktail basics - We can mix it all, everything from Tropical to Classical or Blended to Muddled and anything in between. We can even create a customized signature cocktail just for your event! We can also provide exciting Flair Bartenders to take your party to the next level, or send over one of our Wine or Beer Specialist Bartenders, just tell us what you need.

No party is too big or too small for our services. Call and ask about our brand new concept in private party ideas - "Cocktail Appreciation Education Party" - Invite your friends and let one of our expert Bartenders offer a private course in Cocktail Preparation. Not only is this educational, but very, very fun! Call 1.866.433.2521 for complete details, availabiltiy & to book your party today.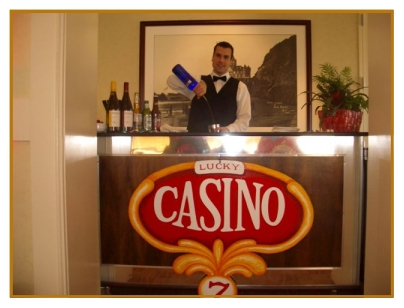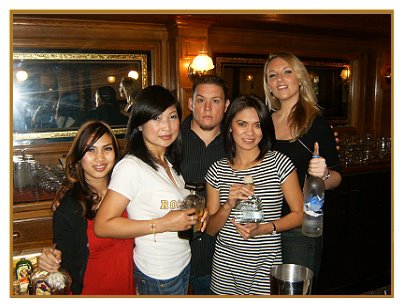 A Casino Event // Bartenders & Co. Bartending Services
of Arizona, California, Colorado, Florida, Georgia, Michigan, North Carolina, Nevada, Texas & Washington

Fresno - Sacramento - San Francisco - Los Angeles - San Diego - Atlanta - Phoenix - Las Vegas - Detroit - Denver - Colorado Springs - Charlotte - Raleigh - Austin - Dallas - Houston - San Antonio - Fort Lauderdale - Miami - Seattle